Stay In Touch From the Cloud
The Alarm Manager Service is a configurable application for monitoring data from the Opendiem system and generating alarms based on user selectable criteria. These alarms can then be used by the Alerts Service to send emails or SMS messages to notify users of potential problems or take specific actions. Alarms can also be used to initiate pre-programmed events such as load shedding during an Automated Demand Response event. These alarm details can be accessed from the Opendiem Web Client for viewing, acknowledging, or editing.
Analyze Historical Data
The Data Logger Service is a configurable utility for recording data from Opendiem engines. Its primary function is to store incoming data into a database. Logged data can be displayed graphically on-line or exported to third party software for more detailed analysis.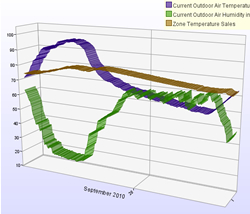 Web Based Configuration
Web browser based configuration and data presentation allows access for remote users.
High Performance design for fast, responsive report requests.
Reliable information collection with data resilience and recovery.
Supports multiple database formats for integration into existing IT systems.
Open database formats and data export enable simple and flexible data analysis for users.
Clear presentation of logged data in tabular or graphical formats.
Enables fast data analysis with zoom, pan and rotation of charts, plus pop-up tool tips with data values.